Young & Hungry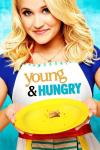 Released:
2014

Family, Comedy
Two worlds collide when Josh, a wealthy young tech entrepreneur, meets Gabi, a feisty young food blogger, looking to be his personal chef. Gabi is desperate for the job and must prove herself, mostly to Josh's aide, who prefers a famous chef for the job. When Josh enlists Gabi to prepare a romantic meal for him and his girlfriend, the dinner goes awry and Gabi finds herself in a very awkward position. With the help of her best friend Sofia and Josh's housekeeper, Gabi turns a difficult situation into an opportunity for employment and maybe even love. Gabi gets some much needed help and advice from Josh's assistant and his housekeeper.

Starring: Emily Osment, Jonathan Sadowski, Aimee Carrero, Kym Whitley, Rex Lee

Created by: David Holden

Language: English


Scenes

Implied


Season 1 Episode 4: Young & Pregnant
Gabi is desperate to pee due to waiting for Sofia to bring her a pregnancy test and says she's been holding it for an hour, she then rushes in and gives a relieved sigh, Sofia asks if she's pregnant, Gabi says no it just felt really good to pee.

Implied


Season 2 Episode 15: Young & Earthquake
Gabi (Emily Osment) and Sofia (Amy Carrero) go to a fortune teller, who informs them that there will be an earthquake the next time Gabi pees. She is then seen doing a potty dance at a cake testing and standing with her legs crossed. When Sofia tells her to go to the bathroom, Gabi replies that "the fate of San Francisco rests on my bladder!" Sofia eventually gets her to go by blowing pepper in her face. Right after Gabi runs into the bathroom, an earthquake does indeed occur.

Implied


Season 3 Episode 1: Young & The Next Day
Gabi and Sofia are both desperate to pee while on a road trip and arrive at a gas station, both ask the owner how disgusting his bathroom is and he says "not gonna lie, pretty bad", both women hurriedly rush inside to use the bathroom and are grossed out by it.
Log
Added: 2022-03-28 17:43:53
Edited: 2022-05-14 23:01:53