Yes Nurse! No Nurse!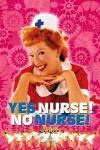 Released:
2002

Comedy, Music
In the guest-house of sister Klivia, the inhabitants are very cheerful and good-hearted persons whose open communal lifestyle is contrasted with the life of somewhat nasty and complaining neighbour Mr Boordevool. Boordevool has spent ages looking for reasons to shut the guest-house. One day a girl from the guest-house meets a nice young guy Gerrit. Sister Klivia lets Gerrit stay regardless of him being a thief. Will that give a chance to the insinuations of the neighbour?

Starring: Loes Luca, Paul Kooij, Paul de Leeuw, Tjitske Reidinga, Waldemar Torenstra, Lennart Vader, Edo Brunner, Beppe Costa

Directed by: Pieter Kramer

Written by:

Language: Dutch


Scenes

Toilet


As Gerrit (Waldemar Torenstra) is walking Jet (Tjitske Reidinga) home, the latter starts singing that she badly needs the loo. She talks to Gerrit at the door while fidgeting slightly, then runs off to pee. She is shown in the background sitting on the toilet with the bathroom door open, then there is an explosion from a science experiment one of her friends is conducting. She jumps up in alarm, and her dress covers her even though her panties are still down.
Screen Captures
Log
Added: 2022-02-28 01:29:06