Everything Must Go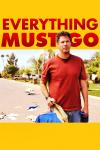 Released:
2011

Comedy, Drama, Romance
When an alcoholic relapses, causing him to lose his wife and his job, he holds a yard sale on his front lawn in an attempt to start over. A new neighbor might be the key to his return to form.

Starring: Will Ferrell, C.J. Wallace, Rebecca Hall, Michael Peña, Rosalie Michaels, Stephen Root, Laura Dern, Glenn Howerton

Directed by: Dan Rush

Written by: Raymond Carver, Dan Rush

Language: English


Scenes

Stream


Nick (Will Ferrell) pees in the fish pond in his back yard.

Audio


Nick's old boss uses a urinal.

Tame


Nick uses a urinal, but there is no pee audio.
Alternate Titles

Neighbor For Sale


Pronto para Recomeçar


Alles muß raus


Všechno musí pryč

Log
Added: 2022-02-25 15:23:36