Adventureland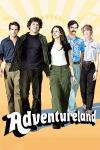 Released:
2009

Comedy
In the summer of 1987, a college graduate takes a 'nowhere' job at his local amusement park, only to find it's the perfect course to get him prepared for the real world.

Starring: Jesse Eisenberg, Kristen Stewart, Martin Starr, Bill Hader, Kristen Wiig, Ryan Reynolds, Margarita Levieva, Josh Pais

Directed by: Greg Mottola

Written by: Greg Mottola

Language: English


Scenes

Stream


Frigo (Matt Bush) pees on a window. This is shown from the inside, and only for a second. The actor is seen only from the waist up and the stream is clearly faked. This scene is a little hard to find, but is at the part where Brennan (Jesse Eisenberg) is with Em (Kristen Stewart) at her house. It's also reprised in the ending credits.
Screen Captures
Alternate Titles

Парк культуры и отдыха


Adventureland - Kalandpark


Adventureland

Log
Added: 2022-02-21 18:06:25