Class of Nuke 'Em High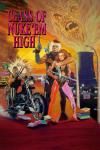 Released:
1986

Horror, Comedy, Science Fiction, Thriller
The pupils at a high school next to a nuclear power plant start acting and looking strange after buying contaminated drugs from a plant worker.

Starring: Janelle Brady, Gil Brenton, Robert Prichard, Pat Ryan, James Nugent Vernon, Brad Dunker, Gary Schneider, Gary Rosenblatt

Directed by: Lloyd Kaufman, Richard W. Haines

Written by: Richard W. Haines

Language: English, Italian


Scenes

Toilet


A girl pees standing up at a urinal in the boys' room of the high school, next to a nerdish boy who is also peeing. She is shown from behind and no stream is visible. In at least some versions there is peeing audio, but it is not clear whether it is from the girl, the nerd, or both. Meanwhile her boyfriend, the leader of the bad guys, is standing guard outside the bathroom with another boy. The nerd tries to give the girl directions to the "correct" restroom, so she angrily kisses him, which gets him into trouble when her boyfriend walks in.
Screen Captures
Alternate Titles

Mutantes en la universidad


Атомная школа


Atomic College


Nuke 'Em High (Working Title)

Log
Added: 2022-02-25 00:49:43
Edited: 2022-05-02 20:19:25