Brazil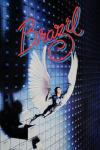 Released:
1985


Comedy, Science Fiction
Low-level bureaucrat Sam Lowry escapes the monotony of his day-to-day life through a recurring daydream of himself as a virtuous hero saving a beautiful damsel. Investigating a case that led to the wrongful arrest and eventual death of an innocent man instead of wanted terrorist Harry Tuttle, he meets the woman from his daydream, and in trying to help her gets caught in a web of mistaken identities, mindless bureaucracy and lies.

Starring: Jonathan Pryce, Robert De Niro, Katherine Helmond, Ian Holm, Bob Hoskins, Michael Palin, Ian Richardson, Peter Vaughan

Directed by: Terry Gilliam

Written by: Terry Gilliam, Tom Stoppard, Charles McKeown

Language: English


Scenes

Tame


Sam (Jonathan Pryce) must help his boss (who is in a wheelchair) pee by standing behind him and holding him up. The peeing is not actually shown, as the bathroom part begins just as the man has finished.
Screen Captures
Alternate Titles

1984 and 1/2 (working title)


1984½ (working title)

Log
Added: 2022-02-24 15:37:05