The Flatshare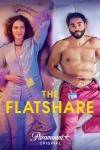 Released:
2022


Drama, Comedy
Tiffany and Leon are two cash-strapped twenty somethings who share a bed, but have never met. The question is, can you fall in love with someone you've never set eyes on?

Starring: Jessica Brown Findlay, Anthony Welsh

Created by:

Language: English


Scenes

Audio


Season 1 Episode 5: Episode 5
Tiffany (Jessica Brown Findlay) says she needs to pee. She is then shown sitting on the toilet peeing in a stall. She sighs in relief.
Screen Captures
Alternate Titles

Piso para dos

Log
Added: 2022-12-02 20:33:09
Edited: 2023-01-05 11:33:11