Monster House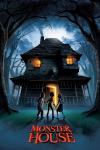 Released:
2006

Animation, Comedy, Family, Fantasy
Monsters under the bed are scary enough, but what happens when an entire house is out to get you? Three teens aim to find out when they go up against a decrepit neighboring home and unlock its frightening secrets.

Starring: Mitchel Musso, Sam Lerner, Spencer Locke, Steve Buscemi, Maggie Gyllenhaal, Kevin James, Nick Cannon, Jon Heder

Directed by: Gil Kenan

Written by: Pamela Pettler, Dan Harmon, Rob Schrab

Language: English


Scenes

Tame


DJ and Chowder urinate in bottles.
Alternate Titles

Rém rom 3D


Monster House 3D


Къща-чудовище


A Casa Monstro


魔怪屋

Log
Added: 2022-11-28 23:12:06