Borat: Cultural Learnings of America for Make Benefit Glorious Nation of Kazakhstan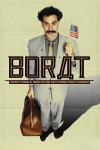 Released:
2006


Comedy
Kazakh journalist Borat Sagdiyev travels to America to make a documentary. As he zigzags across the nation, Borat meets real people in real situations with hysterical consequences. His backwards behavior generates strong reactions around him exposing prejudices and hypocrisies in American culture.

Starring: Sacha Baron Cohen, Ken Davitian, Luenell, Pamela Anderson, Bob Barr, Alan Keyes, Carole De Saram, Mitchell Falk

Directed by: Larry Charles

Written by: Sacha Baron Cohen, Sacha Baron Cohen, Anthony Hines, Anthony Hines, Peter Baynham, Peter Baynham, Dan Mazer, Todd Phillips

Language: Armenian, Hebrew, English, Polish, Romanian


Scenes

Stream


Borat (Sacha Baron Cohen) pees into a stream in which Azamat (Ken Davitian) is washing his face.
1 scenes hidden by content filters. Click here to show
Alternate Titles

Borat - Studio culturale sull'America a beneficio della gloriosa nazione del Kazakistan (Titolo)


Borat


Borat! (Postertitel)


芭乐特:哈萨克青年必修(理)美国文化


Borat


波拉特:为了建设伟大的祖国哈萨克斯坦而学习美国文化


Borat - leçons culturelles sur l'Amérique au profit de la glorieuse nation Kazakhstan


Borat: Aprender Cultura da América para Fazer Benefício Glorioso à Nação do Cazaquistão


Borat (Alternative Title)


Borat (Titolo alternativo)


Borat


Borat


Borat - Kazah nép nagy fehér gyermeke menni művelődni Amerika


波叔出城:哈萨克乡下佬去美国搵着数 (港译)


Borat: Lecciones culturales de América para beneficio de la gloriosa nación de Kazajistán


Borat - Kulturelle Lernung von Amerika um Benefiz für glorreiche Nation von Kasachstan zu machen (Original Title)


Borat - O Segundo Melhor Repórter do Glorioso País Cazaquistão Viaja à América


Borat


Борат: Культурные исследования Америки в пользу славного государства Казахстан


Борат: Культурные исследования Америки в пользу славного народа Казахстана


Borat։ Cultural Learnings of America for Make Benefit Glorious Nation of Kazakhstan


Borat: Kulturel læring i Amerika til gavn for den herlige nation i Kasakhstan


ボラット 栄光ナル国家カザフスタンのためのアメリカ文化学習


보랏: 카자흐스탄 킹카의 미국 문화 빨아들이기


Borat: Kazah nép nagy fehér gyermeke menni művelődni Amerika


באראט


波叔出城1 (short form)

Log
Added: 2022-02-24 14:32:08