Honky Tonk Freeway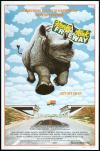 Released:
1981


Action, Comedy
Ticlaw, a small town in Florida, has only one attraction: a safari park. The government constructs a freeway that passes near Ticlaw, but decides not to put an exit into the town. The people of Ticlaw, leaded by its Mayor, will do anything in order to convince the governor to alter the project.

Starring: David Rasche, Paul Jabara, Howard Hesseman, Teri Garr, Peter Billingsley, Beau Bridges, Beverly D'Angelo, Daniel Stern

Directed by: John Schlesinger

Written by: Edward Clinton

Language: English, German


Scenes

Implied


Little Billy (Peter Billingsley) needs to pee and Sister Mary (Deborah Rush) turns on the sink. And he stops at a gas station to use the bathroom. But the urinals are full of mens using it. So he dances around desperately waiting for mens to finish. So he uses the urinal. But he can't reach it. So they helps her son lifts to the urinal to pee.

Implied


At the ending credits, Little Billy peeing on the grass in the middle of the highway.
Alternate Titles

公路風雲

Log
Added: 2022-10-21 18:31:32
Edited: 2023-03-19 16:24:35