Deadpool 2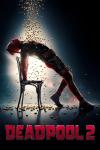 Released:
2018

Action, Comedy, Adventure
Wisecracking mercenary Deadpool battles the evil and powerful Cable and other bad guys to save a boy's life.

Starring: Ryan Reynolds, Josh Brolin, Morena Baccarin, Julian Dennison, Zazie Beetz, T. J. Miller, Leslie Uggams, Karan Soni

Directed by: David Leitch

Written by: Rhett Reese, Ryan Reynolds, Doug Lefler, Paul Wernick

Language: Cantonese, English, Russian, Spanish


Scenes

Stream


Wade (Ryan Reynolds) is sitting on chair in a bar talking to Weasel (T.J. Miller) and pisses himself. The stream is briefly seen. Dopinder (Karan Soni) then goes to clean it up. Weasel also mentions he is making the face he makes when he urinates.
Alternate Titles

Deadpool: Number Two (Working title)


เดดพูล 2


DP2 (Trailer title)


Deadpool 2 (Super Duper Cut)


死侍2:我爱我家


死侍往事

Log
Added: 2022-09-13 06:11:57