Fatman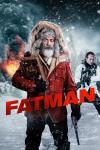 Released:
2020



Action, Comedy, Fantasy
A rowdy, unorthodox Santa Claus is fighting to save his declining business. Meanwhile, Billy, a neglected and precocious 12 year old, hires a hit man to kill Santa after receiving a lump of coal in his stocking.

Starring: Mel Gibson, Walton Goggins, Marianne Jean-Baptiste, Shaun Benson, Paulino Nunes, Chance Hurstfield, Michelle Lang, Deborah Grover

Directed by: Eshom Nelms, Ian Nelms

Written by: Eshom Nelms, Ian Nelms

Language: English


Scenes

Tame


A hitman (Walton Goggins) is on a long drive. We get many quick cuts of various shots through the car windscreen including one of him peeing into a pile of snow. Seen from behind at a distance.

Implied


Later the hitman is on a stakeout. One morning we see him empty a bottle of orange coloured liquid out of his car door. Presumably having peed in the bottle at some point earlier. He seems to adjust his crotch afterwards so probably occured right before the bottle emptying.
Screen Captures
Log
Added: 2022-09-08 12:30:14
Verified: 2022-09-08 12:30:44