In the Dark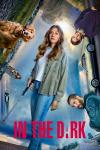 Released:
2019


Drama, Comedy
Murphy is a flawed and irreverent woman who just happens to be blind and is the only "witness" to the murder of her drug-dealing friend, Tyson. When the police dismiss her story, she sets out with her dog, Pretzel, to find the killer while also managing her colorful dating life and the job she hates at Breaking Blind — the guide-dog school owned by her overprotective parents.

Starring: Perry Mattfeld, Brooke Markham, Morgan Krantz, Casey Deidrick, Keston John, Kathleen York, Derek Webster, Thamela Mpumlwana

Created by: Corinne Kingsbury

Language: English


Scenes

Toilet


Season 1 Episode 2: Mommy Issues
Murphy (Perry Mattfeld) sits on the toilet to pee. She is in pain due to a UTI. She deals with this throughout the episode and tells her parents in the car she needs to pee and at one point she is shown exiting a toilet stall.

Implied


Season 1 Episode 4: The Graduate
Murphy says she has to pee. She is then shown flushing the toilet in a stall and tries to get out but gets stuck.

Toilet


Season 1 Episode 5: The Feels
Murphy is shown sitting on the toilet peeing as she asks Jess (Brook Markham) if there's blood on her tissue and she says no. This becomes a recurring thing throughout the episode where Murphy is again shown sitting on the toilet peeing and asks Jess the same question and gets the same reply. Murphy eventually is shown sitting on the toilet peeing in a stall by herself and manages to get her answer though the result isn't shown.

Audio


Season 1 Episode 8: Jessica Rabbit
Max (Caisey Deidrick) says he needs to pee but Jess and and Vanessa (Humberly Gonzalez) beat him to the bathroom. Vanessa is then shown sitting on the toilet peeing. No audio is heard for her. Max unable to wait pees in the sink which is where audio is heard though it's possible he's running the sink.

Tame


Season 1 Episode 11: I Woke Up Like This
Murphy is lost and walking in the snow. She then stops to squat and pee behind a tree. Just as she squats down she hears gunfire go off as she then runs away, not realising she walked into a hunting ground.
Log
Added: 2022-06-07 03:04:27