Never Goin' Back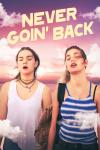 Released:
2018

Comedy
Waitresses Angela and Jessie dream of leaving their low-rent diner and heading to Galveston, Texas. They soon find themselves on the streets of Dallas, trying to come up with increasingly wild schemes to raise some much-needed cash.

Starring: Maia Mitchell, Camila Morrone, Kyle Mooney, Joel Allen, Kendal Smith, Matthew Holcomb, Liz Cardenas Franke, Michelle Sherrill

Directed by: Augustine Frizzell

Written by: Augustine Frizzell

Language: English


Scenes

Audio


Angela (Maia Mitchell) goes into a restroom stall and sits on the toilet to pee.

Audio


A running subplot throughout the film involves Jessie (Camila Morrone) suffering from constipation due to not wanting to poop in a jail cell after the she and Angela are arrested early in the film. It's mentioned a few times including when she first returns home only find no toilet paper and in the aforementioned scene where Angela asks her about it but says she's too backed up to go. Eventually the two are locked in a closet and after eating food she is able to go and subsequently poops in a bucket. She moans in relief and the look is shown on her face.
Log
Added: 2022-06-06 22:13:39