Younger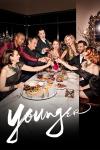 Released:
2015


Drama, Comedy
Liza Miller, a suddenly single stay-at-home mother, tries to get back into the working world, only to find it's nearly impossible to start at the bottom at 40-year old. When a chance encounter convinces her she looks younger than she is, Liza tries to pass herself off as 26 and lands a job as an assistant at Empirical Press. Now she just has to make sure no one finds out the secret only she and her best friend Maggie share.

Starring: Sutton Foster, Hilary Duff, Debi Mazar, Nico Tortorella, Molly Bernard, Peter Hermann

Created by: Darren Star

Language: English


Scenes

Audio


Season 2 Episode 7: Into the Woods & Out of the Woods
Liza (Sutton Foster) needs to pee while at an outdoor concert. She asks where she can go and is directed to the porta-potties. As she waits for one a man advises she'd be better off going in the woods instead. She is then shown squatting to pee as she answers the phone. She is then shown finishing and pulling up her pants.

Audio


Season 3 Episode 7: Ladies Who Lust
Talia (Leslie Rodriguez Kritzer) who is heavily pregnant rushes into the bathroom and sits on the toilet to pee. The audio is very quiet.

Implied


Season 4 Episode 1: Post Truth
A subplot revolves around Diana (Miriam Shor) being embarrassed to poop while her boyfriend Richard (Mather Zickel) is living with her. She also can't go in the bathroom on the floor where office resides due to others recognising her there. She then resorts to going to several floors below where she won't be recognised until she is told to stop. The first scene shows her sitting down on the toilet and running the sink and lighting a candle before she is interrupted and she doesn't seem to go. The rest of the scenes show her entering the restroom. This was part of a long series of deleted scenes released online. It wasn't featured in the final episode but can be found through links on Facebook and Twitter.

https://twitter.com/YoungerTV/status/881204621473181696


Audio


Season 5 Episode 3: The End of the Tour
Ana (Ana Isabelle) asks Kelsey who is getting ready if she can pee really quick. She then relents as Ana then sits on the toilet and pees and sighs in relief.

Audio


Season 6 Episode 5: Stiff Competition
Diana needs to pee but finds the restroom is out of order. Kelsey (Hillary Duff) then takes her outside. It then cuts to Diana squatting to pee behind a dumpster in the street while Kelsey looks out as a cop then comes and cites Diana for public urination. The two are then arrested after Kelsey accidently waves an axe in the cop's face. The two had been axe throwing. The audio in this scene is a little quiet.

https://www.youtube.com/watch?v=QpwkpfHePi4

Log
Added: 2022-04-16 04:52:52
Edited: 2022-05-25 22:27:08
Edited: 2022-06-09 20:48:38