Un gars, une fille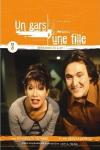 Released:
1997


Comedy
Un gars, une fille is the title of a Quebec comedy television series created by Guy A. Lepage and broadcast on Radio-Canada, as well as the title of its French adaptation on France 2. It is one of the most successful Quebec television shows, with a concept exported to more than thirty markets around the world. It is the first Québécois television program to be adapted in the United States.

Starring: Sylvie Léonard, Guy A. Lepage

Created by: Guy A. Lepage

Language: French


Scenes

Tame


Unknown Episode
Sylvie (Sylvie Léonard) needs to pee while out with Guy (Guy A. LePage), but he is reluctant to stop. Finally he pulls over at the side of the road and she squats next to their car, but then Guy pulls away and leaves her exposed.

Implied


Unknown Episode
This series contains several other scenes in which peeing is discussed or implied.
Log
Added: 2022-03-27 18:57:19