You Can't Do That on Television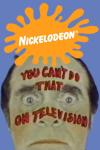 Released:
1979



Comedy
You Can't Do That on Television is a Canadian television program that first aired locally in 1979 before airing internationally in 1981. It featured pre-teen and teenaged actors in a sketch comedy format. Each episode had a theme. The show was notable for launching the careers of many performers, including Alanis Morissette, and writer Bill Prady, who would write and produce shows like The Big Bang Theory, Gilmore Girls and Dharma and Greg. The show was produced by and aired on Ottawa's CTV station CJOH-TV. After production ended in 1990, the show continued in reruns on Nickelodeon through 1994, when it was replaced with the similar All That. The show is synonymous with Nick, and was at that time extremely popular, with the highest ratings overall on the channel. The show is also well known for introducing the network's iconic slime. The program is the subject of the 2004 feature-length documentary, You Can't Do That on Film, directed by David Dillehunt.

Starring: Christine McGlade, Les Lye, Adam Greydon Reid, Lisa Ruddy, Alasdair Gillis, Ruth Buzzi, Klea Scott, Alanis Morissette

Created by: Roger Damon Price

Language: English


Scenes

Tame


Season 4 Episode 2: Rules & Regulations
Lisa(Lisa Ruddy)has to use the bathroom and is squirming in desperation but her teacher says she's not allowed an "an excursion" without a note from her parents, Lisa pleads but the teacher says she'll have to wait until the bell.
Log
Added: 2022-03-15 15:40:56