Promise Me This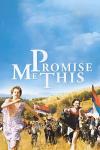 Released:
2007


Romance, Comedy
An old man named Zivojin Markovic, living in a remote village prays for his grandson Cane to go to the city, sell his cow and bring back a wife. In the city he is supposed to meet up with his grandfather's stepbrother, but this man is dead. Instead, he meets this man's two grandsons, two good-natured brothers who are nevertheless small-time criminals and experts in demolition. Cane soon clicks with these men, and also falls in love with a schoolgirl (Jasna), who he wants to marry as part of his testament with his grandfather. He gets involved in this girl's family affairs, rescuing both her and her mother from prostitution and gangsters headed by a man called Bajo, and the new group of people return to the small village in time to celebrate Zivojin's wedding to his neighbor, despite the gangsters' best efforts to stop the celebration, which results in a double wedding.

Starring: Marija Petronijević, Uroš Milovanović, Aleksandar Berček, Predrag Laković, Ljiljana Blagojević, Miki Manojlović, Ivan Maximov, Kosanka Đekić

Directed by: Emir Kusturica

Written by: Emir Kusturica

Language: Serbian


Scenes

Stream


Bajo (Predrag Miki Manojlovic) is at a nightclub that he owns, and needs to pee. Oddly, he goes to another room and sits down between two women and begins to pee right there. The faked stream is shown hitting the ceiling, causing a light bulb to explode.
Alternate Titles

Promets-moi


Na mou to yposhetheis (Festival title)


Zavet


Lubadus


Macskajaj 2. - Az ígéret szép szó


Prométeme


Завет


Promettilo!


Promessas (DVD title)


Bana söz ver


Obiecaj mi!


Oi 3 yposheseis (DVD title)


Обіцянка (2)

Log
Added: 2022-02-28 01:36:23