You're Not You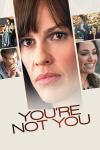 Released:
2014

Drama
A drama centered on a classical pianist who has been diagnosed with ALS and the brash college student who becomes her caregiver.

Starring: Hilary Swank, Emmy Rossum, Josh Duhamel, Stephanie Beatriz, Jason Ritter, Julian McMahon, Ali Larter, Andrea Savage

Directed by: George C. Wolfe

Written by: Jordan Roberts, Shana Feste

Language: English


Scenes

Audio


Kate (Hilary Swank) is suffering from ALS, and Bec (Emmy Rossum) has to help seat her on the toilet. We hear Kate peeing for a few seconds as the camera stays on the women's faces, and then Bec wipes her. "Wipe harder, please," Kate asks. When Bec tries to pick her up, they both fall on the ground and one of Kate's hands winds up in the toilet.
Screen Captures
Log
Added: 2022-02-28 01:25:10