Young Guns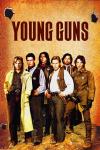 Released:
1988

Western, Crime, Action, Adventure, Drama
A group of young gunmen, led by Billy the Kid, become deputies to avenge the murder of the rancher who became their benefactor. But when Billy takes their authority too far, they become the hunted.

Starring: Emilio Estevez, Kiefer Sutherland, Lou Diamond Phillips, Charlie Sheen, Dermot Mulroney, Casey Siemaszko, Terence Stamp, Jack Palance

Directed by: Christopher Cain

Written by: John Fusco

Language: English


Scenes

Audio


Billy the Kid (Emilio Estevez) pisses in an outhouse, followed by a loud fart.
Log
Added: 2022-02-28 01:24:21