You Don't Mess with the Zohan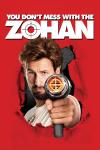 Released:
2008

Comedy, Action
An Israeli counterterrorism soldier with a secretly fabulous ambition to become a Manhattan hairstylist. Zohan's desire runs so deep that he'll do anything -- including faking his own death and going head-to-head with an Arab cab driver -- to make his dreams come true.

Starring: Adam Sandler, Emmanuelle Chriqui, John Turturro, Nick Swardson, Lainie Kazan, Rob Schneider, Kevin Nealon, Mariah Carey

Directed by: Dennis Dugan

Written by: Adam Sandler, Judd Apatow, Robert Smigel

Language: English, Hebrew


Scenes

Stream


Zohan (Adam Sandler) pees on a friend's cat while aiming for the litter box. The stream is shown for about a second.

Stream


The unrated version features a second very quick scene of Zohan peeing on the cat.
Screen Captures
Log
Added: 2022-02-28 01:23:53