Unaccompanied Minors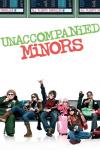 Released:
2006

Comedy, Family
Five disparate kids snowed in at the airport on Christmas Eve learn some lessons about friendship when they launch a bid to get back to their families and outsmart a disgruntled airport official who wants to keep them grounded.

Starring: Lewis Black, Wilmer Valderrama, Tyler James Williams, Dyllan Christopher, Brett Kelly, Gia Mantegna, Quinn Shephard, Rob Corddry

Directed by: Paul Feig

Written by: Jacob Meszaros, Mya Stark

Language: English


Scenes

Audio


Charlie (a boy of apx. 12 years old played by Tyler James Williams) needs to pee urgently, to the point where he is in pain. Eventually he finds a restroom and does so.
Log
Added: 2022-02-27 23:12:59