Unforgiven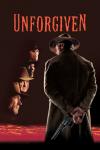 Released:
1992

Western
William Munny is a retired, once-ruthless killer turned gentle widower and hog farmer. To help support his two motherless children, he accepts one last bounty-hunter mission to find the men who brutalized a prostitute. Joined by his former partner and a cocky greenhorn, he takes on a corrupt sheriff.

Starring: Clint Eastwood, Gene Hackman, Morgan Freeman, Richard Harris, Jaimz Woolvett, Anna Levine, Saul Rubinek, Frances Fisher

Directed by: Clint Eastwood

Written by: David Webb Peoples, David Webb Peoples

Language: English


Scenes

Wetness


W.W. Beauchamp (Saul Rubinek) is reaching into his bag for a book, and pees his pants when threatened by a man with a gun. The urine is shown spilling out loudly onto the ground around his right foot.
Screen Captures
Log
Added: 2022-02-27 23:04:34