Unfaithful Women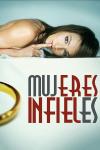 Released:
2004

Drama, Comedy
Cecilia Ureta, host of Chile's highest-rated news show, announces the results of a United Nations survey, the conclusion of which states that 62% of Chilean women are or have never been unfaithful. Ironically, Cecilia maintains an extramarital relationship with the network's owner. Maliciously, a rival colleague discovers this during a live broadcast, with tragic results. The revelation spreads becoming a conversation of national interest.

Starring: María José Prieto, Cristián Campos, Daniel Alcaíno, María Izquierdo, Viviana Rodríguez, Gabriela Aguilera, Remigio Remedy, Benjamín Vicuña

Directed by: Rodrigo Ortuzar Lynch

Written by: Rodrigo Ortuzar Lynch, Daniel Henríquez, Walter Slavich, Marcelo Slavich

Language: Spanish


Scenes

Toilet


A woman sits on the toilet. She is shown wiping and then getting up from the toilet, but there are no pee sounds.

Toilet


Two women are shown using stalls in a restroom, with the camera cutting between the two as they talk. No pee audio.
Screen Captures
Log
Added: 2022-02-27 23:03:44