Under Wraps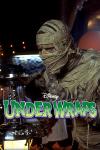 Released:
1997

Comedy, Family, Horror, TV Movie
A comedy-adventure in which three twelve-year-olds have a close encounter with a 3,000-year-old mummy. Marshall, Gilbert and Amy accidentally set the mummy free, but if they don't get him back to his resting place by midnight on Halloween, he'll turn into dust and lose his only chance of being reunited with his long-lost love.

Starring: Mario Yedidia, Adam Wylie, Clara Bryant, Ken Hudson Campbell, Corinne Bohrer, Penny Peyser, Ed Lauter, Bill Fagerbakke

Directed by: Greg Beeman

Written by: Don Rhymer

Language: English


Scenes

Implied


The mummy is seen going into the bathroom and closing the door. Tinkling sounds are heard, followed by a big mummy sigh of relief. One of the children remarks, "Man, that mummy had to go!"
Screen Captures
Log
Added: 2022-02-27 23:01:25