Trust the Man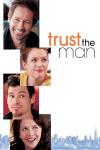 Released:
2005

Comedy, Drama, Romance
Overachieving actress Rebecca must come to grips with her failing marriage to stay-at-home dad Tom. While Rebecca's slacker brother Tobey can't seem to commit to his aspiring-novelist girlfriend, Elaine. As both relationships spin out of control, the two couples embark on a quest to rediscover the magic and romance of falling in love in New York.

Starring: David Duchovny, Julianne Moore, Billy Crudup, Maggie Gyllenhaal, Justin Bartha, Eva Mendes, Ellen Barkin, Garry Shandling

Directed by: Bart Freundlich

Written by: Bart Freundlich

Language: English


Scenes

Audio


Tom (David Duchovny), Tobey (Billy Crudup), and several other men are shown standing at urinals together. Some slight pee audio is heard.
1 scenes hidden by content filters. Click here to show
Log
Added: 2022-02-27 18:23:30