Stranger Than Fiction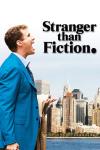 Released:
2006

Comedy, Drama, Fantasy, Romance
Harold Crick is a lonely IRS agent whose mundane existence is transformed when he hears a mysterious voice narrating his life.

Starring: Will Ferrell, Maggie Gyllenhaal, Dustin Hoffman, Emma Thompson, Queen Latifah, Ricky Adams, Denise Hughes, Christian Stolte

Directed by: Marc Forster

Written by: Zach Helm

Language: English


Scenes

Audio


Jules (Dustin Hoffman) uses a urinal.

Audio


Jules advises Harold (Will Ferrell) not to do anything his usual way, so Harold puts a bottle under his coat and pees into it.
Alternate Titles

Vero come la finzione


L'Incroyable Destin de Harold Crick


Персонаж


口白人生


Más Extraño que la Ficción


Не може да бъде!


Πιο παράξενο κι από παράξενο!


Väljamõeldisestki veidram


Sukurtas Haroldas


Plus étrange que fiction (fr-ca)


스트레인저 댄 픽션


Marc Forster s Stranger than Fiction


Mais Estranho que a Ficção

Log
Added: 2022-02-27 15:31:34