Riding in Cars with Boys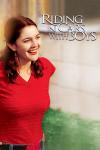 Released:
2001

Comedy, Drama, Romance
A single mother, with dreams of becoming a writer, has a son at the age of 15 in 1965, and goes through a failed marriage with the drug-addicted father.

Starring: Drew Barrymore, Steve Zahn, Adam Garcia, Brittany Murphy, James Woods, Lorraine Bracco, Rosie Perez, Sara Gilbert

Directed by: Penny Marshall

Written by: Morgan Ward, Beverly D'Onofrio

Language: English


Scenes

Implied


A girl is diapering a baby boy, and she is heard to say "Oh, he peed in my mouth!" Nothing shown.
Alternate Titles

Los chicos de mi vida


I ragazzi della mia vita

Log
Added: 2022-02-26 23:32:17