Outside Ozona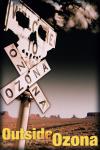 Released:
1998

Thriller, Comedy, Drama, Romance
A drama revolving around a group of strangers brought together by a common occurrence as well as listening to the same radio station.

Starring: Robert Forster, Kevin Pollak, Sherilyn Fenn, David Paymer, Penelope Ann Miller, Swoosie Kurtz, Taj Mahal, Meat Loaf

Directed by: J.S. Cardone

Written by: J.S. Cardone

Language: English


Scenes

Audio


Marcy (Sherilyn Fenn) is riding in a car with her sister and a hitchhiker, and asks to stop at a rest area. "If I don't pee, I'm going to explode." She goes into a stall and pees while talking to her sister. She wipes toilet paper around her hand to wipe with when she is done.

Audio


A trucker (Odell, played by Robert Forster) stops at this same rest area a few minutes later and relieves himself into a urinal.
Screen Captures
Log
Added: 2022-02-26 21:00:41