Une nuit à l'Assemblée Nationale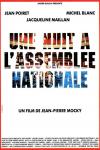 Released:
1988

Comedy
The leader of a nudist colony enlists the help of left-wing militant when he mistakenly believes he should receive the Legion of Honor.

Starring: Michel Blanc, Jean Poiret, Jacqueline Maillan, Darry Cowl, Roland Blanche, Josiane Balasko, Bernadette Lafont, Isabelle Mergault

Directed by: Jean-Pierre Mocky

Written by: Jean-Pierre Mocky, Patrick Rambaud

Language: French


Scenes

Tame


A politician goes to a nudist camp to campaign, and meets a couple, Walter & Josette Arbeit (Michel Blanc & Dominique Goursolle). While talking to them, Josette needs to pee so she bends her knees and does it right there. Walter complains, because some of it splashes onto him.
Log
Added: 2022-02-26 18:56:40