Young, Beautiful and Screwed Up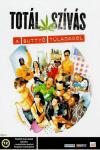 Released:
2003



Comedy, Romance
A young boy from the south of France falls madly in love with a posh Parisian girl and follows her for crazy adventures to the big city.

Starring: Matthias Van Khache, Hervé Lassïnce, Mareva Galanter, Richard Bohringer, Stéphane Soo Mongo, Ticky Holgado, Jean-Marie Bigard, Cyrielle Clair

Directed by: Igor Sekulic

Written by: David Talbot, Jean-Marie Poiré, Igor Sekulic, Rodolphe Sand

Language: French, Hungarian


Scenes

Audio


Christiane (Sandrine Molaro) needs to pee while at a party at her parents' house, but the two toilets are both occupied. Finally she gets desperate enough to pee in a bathroom sink. The sound is heard, very loud (with echoes) and obviously faked. At the end the sink breaks and she falls down with her butt cheeks wedged into it.
Screen Captures
Log
Added: 2022-02-25 21:05:10