All of Me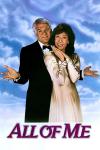 Released:
1984

Comedy, Fantasy, Romance
Just before stubborn millionaire Edwina Cutwater dies, she asks her uptight lawyer, Roger Cobb to amend her will so that her soul will pass to the young, vibrant Terry Hoskins – but the spiritual transference goes awry. Edwina enters Roger's body instead, forcing him to battle Edwina for control of his own being.

Starring: Steve Martin, Lily Tomlin, Victoria Tennant, Madolyn Smith Osborne, Richard Libertini, Dana Elcar, Jason Bernard, Selma Diamond

Directed by: Carl Reiner

Written by: Phil Alden Robinson, Edwin Davis, Henry Olek

Language: English


Scenes

Tame


Steve Martin is helped at the urinal by the woman (Lily Tomlin) inhabiting his body. He gives her instructions on how to accomplish the task, including the "shake" at the end.
Alternate Titles

All of Me (1984)


Dos veces yo


Um Espírito Baixou em Mim


Sólo pro dva


All of Me


Solo für 2


Almas do Outro Mundo


Весь я


Solo pour deux


Мое второе Я

Log
Added: 2022-02-21 19:53:00