Crazy Heart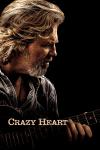 Released:
2009

Drama, Music, Romance
When reporter Jean Craddock interviews Bad Blake—an alcoholic, seen-better-days country music legend—they connect, and the hard-living crooner sees a possible saving grace in a life with Jean and her young son.

Starring: Jeff Bridges, Colin Farrell, Maggie Gyllenhaal, Robert Duvall, Tom Bower, Paul Herman, Beth Grant, J. Michael Oliva

Directed by: Scott Cooper

Written by: Scott Cooper, Thomas Cobb

Language: English, Spanish


Scenes

Implied


At the start of the film, Bad (Jeff Bridges) empties his pee jug after a long car trip.

Tame


Bad pees out in the open after making a phone call. Shown from behind, with no stream or pee sound.
Alternate Titles

Loco corazón


我心狂野

Log
Added: 2022-02-25 01:32:15