iZombie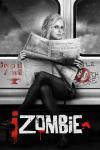 Released:
2015


Drama, Crime, Sci-Fi & Fantasy
A medical student who becomes a zombie joins a Coroner's Office in order to gain access to the brains she must reluctantly eat so that she can maintain her humanity. But every brain she eats, she also inherits their memories and must now solve their deaths with help from the Medical examiner and a police detective.

Starring: Rose McIver, David Anders, Robert Buckley, Malcolm Goodwin, Rahul Kohli, Aly Michalka, Bryce Hodgson

Created by: Rob Thomas, Diane Ruggiero

Language: English


Scenes

Implied


Season 1 Episode 10: Mr. Berserk
Liv (Rose McIver) tells Ravi (Rahul Kohli) that, while under the influence of an alcoholic's brain, that she passed out on the toilet and only woke up because Peyton (Aly Michalka) needed to use it.

Tame


Season 1 Episode 13: Blaine's World
Major (Robert Buckley) is being held captive in a freezer. At one point he is seen urinating in the corner and later, he ignites his urine to blow open the door and escape.
Log
Added: 2022-06-09 00:50:28