The Hurricane Heist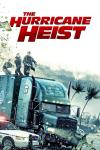 Released:
2018

Action, Crime, Thriller
Thieves attempt a massive heist against the U.S. Treasury as a Category 5 hurricane approaches one of its Mint facilities.

Starring: Toby Kebbell, Maggie Grace, Ryan Kwanten, Ralph Ineson, Melissa Bolona, Ben Cross, Christian Contreras, Mark Basnight

Directed by: Rob Cohen

Written by: Carlos Davis, Anthony Fingleton, Scott Windhauser, Jeff Dixon

Language: English


Scenes

Audio


In the middle of a hurricane, Casey (Maggie Grace) and Will (Toby Kebbell) stop in a parking garage to pee. Casey mentions she's had to go for two hours, due to all the water around them. Audio is heard.
Screen Captures
Log
Added: 2022-03-01 22:23:10
Edited: 2022-05-19 20:01:17