Zombie Apocalypse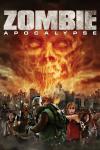 Released:
2011

Action, Horror, Science Fiction
Months after a zombie plague has wiped out 90 percent of the American population, a small group of survivors fight their way cross-country to a rumored refuge on the island of Catalina.

Starring: Ving Rhames, Taryn Manning, Johnny Pacar, Lesley-Ann Brandt, Gary Weeks, Gerald Webb, Eddie Steeples, Anya Monzikova

Directed by: Nick Lyon

Written by: Craig Eagle, Brooks Peck

Language: English, Portuguese, Russian


Scenes

Audio


Cassie (Lesley-Ann Brandt) goes behind a building with Ramona (Taryn Manning) so that Cassie can pee in some bushes. She tells Ramona that she is a bit pee-shy, so Ramona turns around as the camera stays on Cassie and peeing is heard for about a second before the scene abruptly cuts away.
Screen Captures
Log
Added: 2022-02-28 01:33:19