Unrest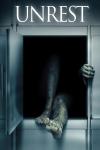 Released:
2006

Horror
A young pathology med student suspects that the spirit of a dead cadaver in the hospital morgue where she works is killing off all those who handle or desecrate the body.

Starring: Corri English, Scot Davis, Joshua Alba, Jay Jablonski, Marisa Petroro, Ben Livingston, Abner Genece, Reb Fleming

Directed by: Jason Todd Ipson

Written by: Chris Billett

Language: English


Scenes

Toilet


Allison (Corri English) sits on the toilet to pee, but before she can get started she is interrupted by the haunted shower turning on by itself. This is a very short and tame scene.
Screen Captures
Log
Added: 2022-02-27 23:07:24