Sherrybaby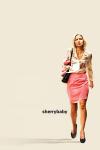 Released:
2006

Drama
After serving time in prison, former drug addict Sherry Swanson returns home to reclaim her young daughter from family members who have been raising the child. Sherry's family, especially her sister-in-law, doubt Sherry's ability to be a good mother, and Sherry finds her resolve to stay clean slowly weakening.

Starring: Maggie Gyllenhaal, Brad William Henke, Sam Bottoms, Giancarlo Esposito, Bridget Barkan, Ryan Simpkins, Kate Burton, Rio Hackford

Directed by: Laurie Collyer

Written by: Laurie Collyer

Language: English


Scenes

Audio


Sherry (Maggie Gyllenhaal) is shown peeing in the bathroom for a drug test. The audio is very clear but lasts only a second.

Wetness


Sherry's young daughter Lexie (Ryan Simpkins) wets her pants after being scared.
Screen Captures
Log
Added: 2022-02-27 13:29:04
Edited: 2023-08-19 14:31:49