Only God Knows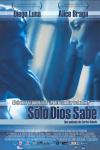 Released:
2006

Drama, Thriller, Mystery, Romance
On a lark in Tijuana, a carefree Brazilian art student crosses paths with a brooding Mexican journalist, sparking a cascade of events across both Mexico and Brazil. As Dolores and Damián discover an intimate love and a mysterious spiritual heritage, they struggle with ever more costly choices.

Starring: Diego Luna, Alice Braga, Cecilia Suárez

Directed by: Carlos Bolado

Written by:

Language: Portuguese, Spanish, English


Scenes

Audio


Dolores (Alice Braga) pees in a hotel room bathroom while talking to a friend. There is some brief, quiet pee audio, and she rolls off some toilet paper to wipe. She flushes the toilet, then the faucet breaks on the sink when she tries to wash her hands.

Tame


Dolores is riding with her boyfriend in the desert, and he accidentally kills a bird with his car. He feels bad about it and stops to bury the bird, and she announces that she is going to pee. She goes behind a bush for a moment and he says he won't look (and doesn't). Not much is seen, other than her adjusting her pants as she stands up.
Screen Captures
Log
Added: 2022-02-26 20:49:57