The Night Buffalo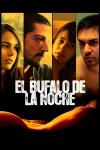 Released:
2007

Drama
Unable to cope with the fact that his girlfriend cheated on him with his best friend, a 22-year-old schizophrenic sets an elaborate revenge plan into motion before taking his own life.

Starring: Diego Luna, Liz Gallardo, Gabriel González, Irene Azuela, Camila Sodi, Verónica Langer, Javier Díaz Dueñas, Fernando Becerril

Directed by: Jorge Hernández Aldana

Written by: Guillermo Arriaga, Guillermo Arriaga, Jorge Hernández Aldana

Language: Spanish


Scenes

Stream


Tania (Liz Gallardo) pees on Manuel (Diego Luna) while straddling him in bed before they make love. Her vagina is not shown at the same time as the stream, so this may be faked.
Screen Captures
Alternate Titles

The Night Buffalo


O Búfalo da Noite

Log
Added: 2022-02-26 19:26:30